Discovering the Vendée region
The jewels of the Vendée: towns and sites to discover
Get ready to discover the wonders of Vendée during your next stay at the Bel air Village campsite in Vendée. This region is the ideal place for a memorable vacation, offering a wide range of sightseeing and tourist experiences.
Les Sables-d'Olonne, known for its magnificent beach and lively embankment, is a must for seaside enthusiasts. Noirmoutier-en-l'Île, with its salt marshes and white houses with blue shutters, will not leave you indifferent either. La Roche-sur-Yon, the prefecture of the Vendée, will surprise you with its blend of modern and classical architecture. Each city invites you to discover its unique heritage, breathtaking scenery and rich culture.
Family and sporting adventures in Vendée
---
The Vendée is a paradise for family and sporting activities. Water sports enthusiasts will be delighted with a multitude of activities including surfing, kitesurfing and sailing. The Marais Poitevin , for its part, offers the perfect opportunity for boat trips, where you can enjoy the tranquility of the "Green Venice", and for families, the Puy du Fou offers grandiose shows that will transport you back in time. Hiking enthusiasts can explore the island of Yeu, with its coastal paths offering breathtaking ocean views.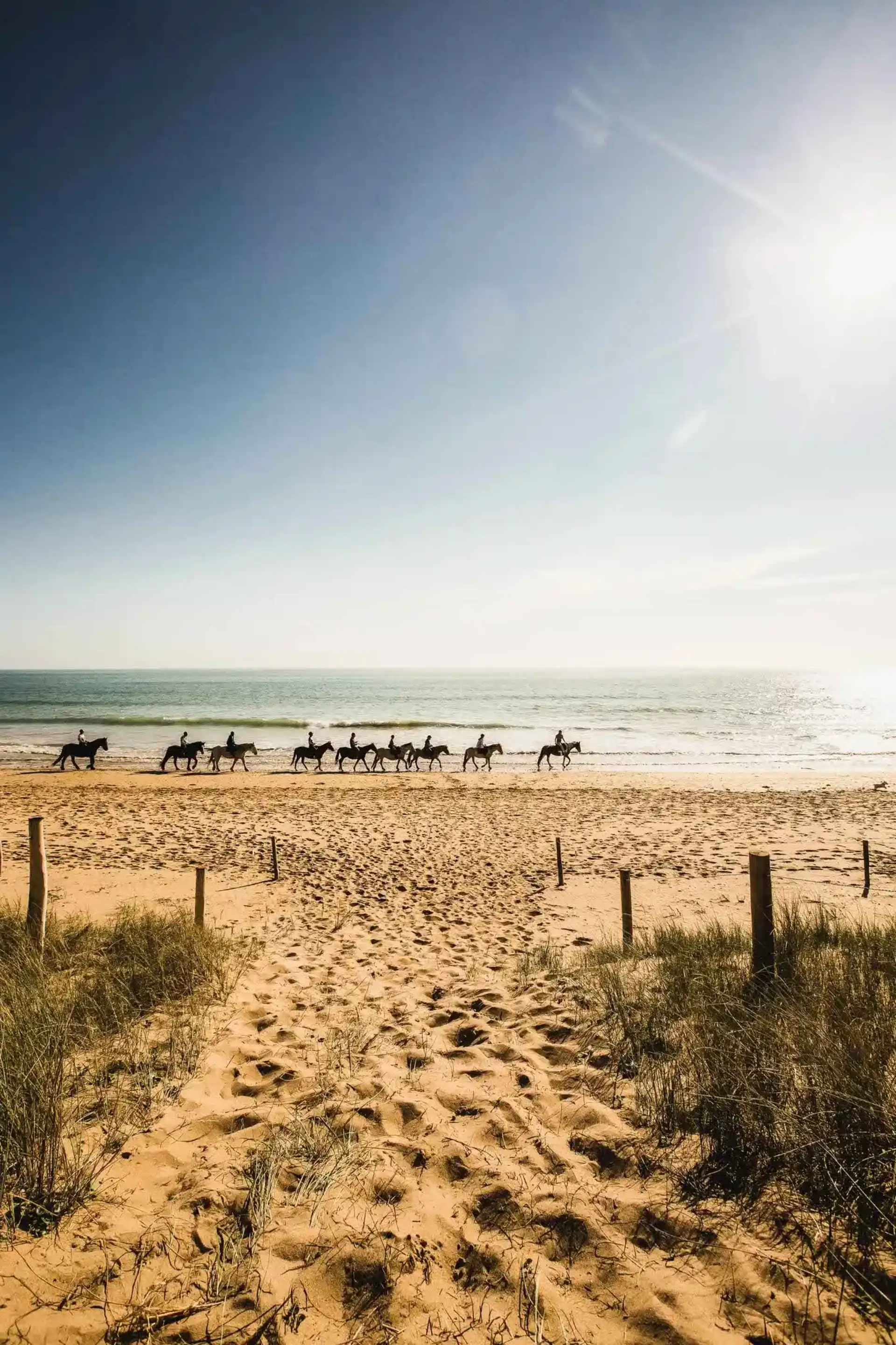 Cultural immersion: must-sees in Vendée
For the ultimate in cultural immersion, the Vendée offers a wide range of cultural tours to help you discover the region's history and traditions. Talmont castle, the former fortress of Richard the Lionheart, is a living testimony to theregion's medieval history. Maillezais Abbey, meanwhile, will dazzle you with its grandeur and rich history. And don't miss the Haras de la Vendée, where you can discover theregion's equestrian world and traditions.
Saveurs de Vendée: gastronomic discovery
---
The Vendée is also a top destination for gourmets. The département is famous for its exceptional gastronomy, which showcases local produce and seafood specialities.
Seafood lovers will be delighted to sample Vendée oysters, Bouchot mussels and Saint-Gilles-Croix-de-Vie sardines.
For those with a sweet tooth, gâche vendéenne, a soft, fragrant brioche, is a must. Last but not least, we recommend a visit to the local markets, the ideal place to discover the authentic flavors of the Vendée, with a wide range of fresh, seasonal produce.
Discover our commitments, our services and swimming